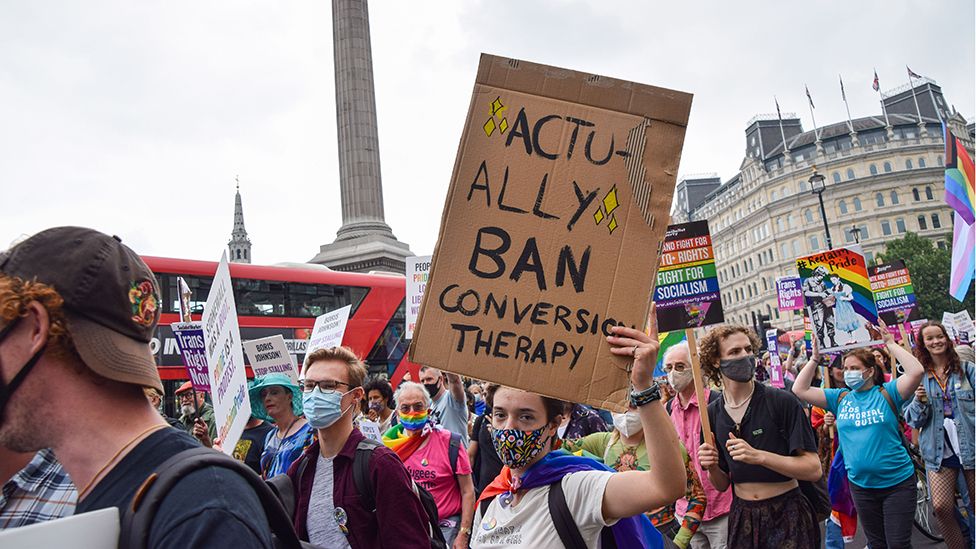 By Lauren Moss, LGBT correspondent & Josh Parry, LGBT producer
BBC News
A proposed ban on conversion therapy in the UK, which would introduce unlimited fines for those found guilty, has been put forward in the House of Lords.
Baroness Burt has tabled a Private Members' Bill proposing a UK-wide ban, which will now be debated next year.
It comes after the government left out a ban from last month's King's Speech - five years after first promising one.
Baroness Burt, a Liberal Democrat peer, said there was a "cross-party consensus" in favour of the measure.
Conversion therapy refers to practices aiming to change or suppress someone's sexual orientation or their gender identity.
Baroness Burt's proposal would ban practices aimed at both. The BBC has seen details of her draft bill, which hasn't been published yet.
The Lib Dem peer says the proposed new law aims to "robustly differentiate" between genuine psychological or religious practice, and conversion therapy practices, to protect legitimate therapies and prayer.
She said: "It is very disappointing that the Conservatives have failed to deliver on their promise to ban conversion therapy for five years now."
She was selected first in a House of Lords Private Members' Bill ballot - which allow members who aren't ministers to put forward proposed new laws.
But it is far from guaranteed that it will be passed. The proposal will have to go through several rounds of voting in the House of Lords and, if it receives enough support, would then pass to the House of Commons for MPs to debate and vote upon.
'Carefully considering'
Government plans to ban conversion therapy have been widely discussed and caused several resignations from the government's LGBT advisory panel, as well as a boycott of the UK's first ever international LGBT conference.
In January this year, the government re-affirmed its plan to ban the practice. However, earlier this month, the proposed Conversion Therapy Bill was left out of the King's Speech - the list of new laws Number 10 is prioritising over the next few months. It means it is unlikely to become law before the next general election.
The delay has frustrated some Conservative MPs, with one telling the BBC they were annoyed the government had "delivered Brexit quicker". Some are planning to try to amend another proposed law, the Criminal Justice Bill, as a way of getting the ban through.
But other politicians and campaigners fear a ban could have unintended consequences for parents, teachers and therapists having exploratory conversations about a child's gender identity. They also say it could also hamper religious freedoms.
In the days leading up to the King's Speech, a group of politicians met to discuss those concerns and wrote to Prime Minister Rishi Sunak asking him not to press ahead with a ban.
Speaking earlier this month, Cabinet Office minister Alex Burghart suggested it was those concerns that had delayed the bill.
"What we don't want to do is end up in a situation where legislation accidentally criminalises parents or teachers, we just don't want to end up in a bad legal space," he said. "Anyone who tells you this is easy hasn't looked at the legal situation."
The government has said it is still "carefully considering" a ban.
However, campaigners and those who have undergone conversion therapy are unhappy the bill wasn't included in the King's Speech.
Kitty, who grew up in a religious family and asked us not to use her last name, says she underwent six months' of sessions at New Life Church, in Woking, at the age of 16.
After being invited to talk about her feelings, she was shocked to be told her homosexuality was a result of Satan "whispering" in her ear.
As part of the sessions, she says she was told to look for reasons that could explain her sexuality and asked what she felt were intrusive questions over her upbringing.
Kitty says it left her feeling depressed, unable to trust her family and friends, and ultimately led to an attempt on her own life on two separate occasions.
"If you are trying to change someone from who they are meant to be then you are probably doing something wrong," she told the BBC.
New Life Church in Woking said it was "very sad to hear these claims from a much-loved former member of our congregation".
"While we hold to mainstream Christian beliefs on sexual ethics, we respect the right of all people to live their lives according to their own principles, and do not practice 'conversion therapy'."
Jayne Ozanne, a former government LGBT advisor who resigned over delays on banning conversion therapy, says she believes a ban can still protect religious freedoms.
"Any conversation that allows people to be challenged and explore who they are, is to be welcomed," she said. "But when the mindset is 'you can never be gay, or you can never be transgender', that thinking will cause great harm."
The BBC agreed not to use Kitty's surname