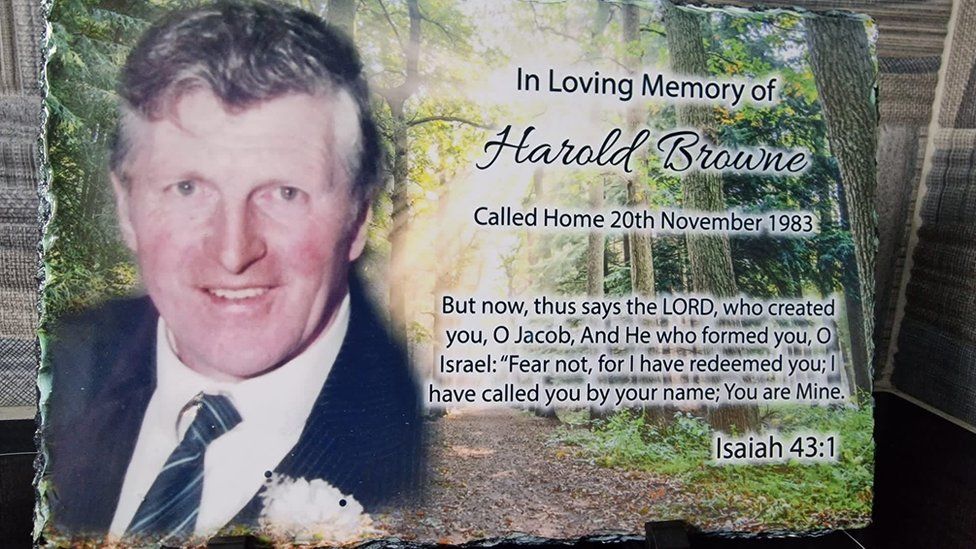 By Cormac Campbell
BBC News NI south-east reporter
A man whose father died in the Darkley killings 40 years ago has said he does not harbour bitterness, hate or resentment, but feels a raw injustice.
Harold Browne was one of three men murdered when gunmen attacked worshippers at the Mountain Lodge Pentecostal Church in County Armagh.
Victor Cunningham and David Wilson also lost their lives in the attack on 20 November 1983.
The attack was claimed by a group called the Catholic Reaction Force.
That was a cover name for the Irish National Liberation Army (INLA).
David Browne said his father was a Christian and "upright man", who took his role as an elder at the church seriously.
"He was well respected throughout the Mountain Lodge community of people but much beyond this," he continued in a statement.
"Dad didn't stand a chance that fateful night, his instinct was to try and protect others from harm and injury but in doing so he, himself, paid with his life."
Mr Browne said 40 years is seen by some as a long period of time with "lots of water under the bridge".
However, he added: "For me, there remains stagnant water under the bridge which cannot flow.
"I do not harbour bitterness, hate or resentment for what happened, but I do have strong feelings of injustice. A wonderful man, my earthly father was taken away from us, and that was no-one's right."
Mr Browne said the feelings were still raw.
"I remember a special man who lived life well, who lived to serve others but most importantly for him, he lived his life by the values set down by his Heavenly Father."
Kenny Donaldson, the director of the South East Fermanagh Foundation (SEFF), said the families continue to suffer but had shown tremendous fortitude.
His group works with a number of those bereaved, injured and otherwise impacted by the Darkley killings.
"Over the years the Darkley families have been particularly private in how they have dealt with the most horrific grief in the aftermath of November 1983," Mr Donaldson explained.
"I think everybody is a human being and we all have pain to endure. They have wrestled with that and kept tight counsel.
"They have obviously looked to a pastor in some situations and an immediate family around them to try and keep themselves. They maybe wouldn't trust so easily with external organisations, but they have been able to carry themselves through."
Mr Donaldson said even the mention of a loved one's name "can bring tears very quickly".
"We would obviously have contact with a number of the families and things become very difficult when anniversaries are approaching, as it is for many," he continued.
'Talk of Christian love'
The SEFF representative said some had suppressed and internalised their pain and grief, leaving a sense of "unfinished business".
"The overriding factor for them is that they do not want to create a circumstance where others ever lost their lives," he added.
"So their talk was always talk of restraint, talk of their faith, talk of Christian love. That was the determining factor through it all."
A new larger church opened at the Mountain Lodge site in 1990.
The leadership of the church said it had taken a decision not to participate in interviews marking the 40th anniversary of the killings, but that everyone is welcome to attend services.