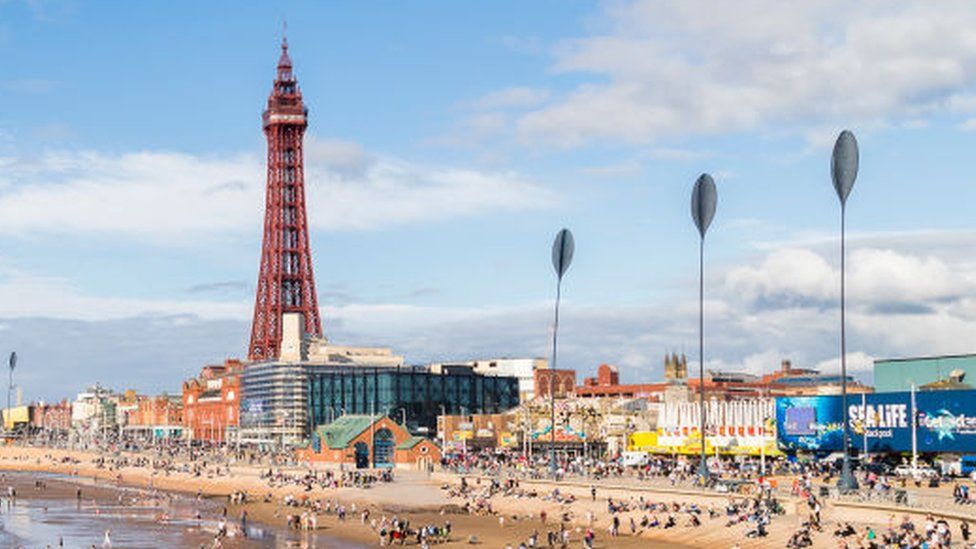 More than 50 projects have been awarded a total of £1bn in the third round of levelling up funding.
The fund is aimed at tackling regional inequalities by backing projects that boost transport and culture
Levelling Up minister Jacob Young said the cash would "restore pride of place and improve everyday life" for people.
But Labour's shadow minister Justin Madders said it was a "drop in the ocean" and would not make up for "13 years of neglect" by Tory governments.
This latest round of money is the third tranche of Levelling Up Fund cash to be announced.
In October 2021 and January 2023, £1.7bn and £2.1bn were awarded respectively.
The project to get the largest amount of money in this round was the Penistone rail line, which received £48m to improve the railway between Sheffield and Huddersfield.
Other successful projects included:
£37.4m to build commercial property and electric vehicle infrastructure in North and South Ayrshire
£20m for schemes in South Shields, including developing a culture hub and building accommodation for South Tyneside College
£15m for Port Talbot to refurbish the Princess Royal Theatre, along with other improvements to the town centre
£15.4m to improve transport and infrastructure for cyclists and pedestrians in Blackpool
The previous round of the levelling up funding received criticism for favouring projects in the wealthier south east of the country.
Announcing the latest spending in Parliament, Mr Young sought to stress that the money would benefit projects across the UK.
'Blackmail'
He added that across all three rounds of funding, the north-east and north-west of England had received more per capita than any other region in England, followed closely by the East Midlands and Yorkshire and Humber.
The allocation of money enraged the DUP, who complained that Northern Ireland projects had not received anything in the third round.
Mr Young attributed this to the lack of a running government in Northern Ireland, but the DUP's Treasury spokesman Sammy Wilson said that was a "flimsy excuse".
He said it was a "case of blatant, pathetic, transparent, economic blackmail to try and get the assembly up and running again" and accused the government of "using the money to pour into marginal Conservative constituencies".
In the past two funding rounds, local authorities have had to submit bids, but this time the winners were selected from those who had previously been unsuccessful.
Mr Young said this was "testament" to the quality of the past applications.
Newly-elected Labour MP for Rutherglen and Hamilton West Michael Shanks asked if local authorities would be reimbursed for the cost of submitting applications.
Mr Young replied that there would be no refunds, but added that the government was working towards "to a simpler version of funding that meets councils' needs, rather than asking councils to meet the needs of various funding streams".
Last week, the government's spending watchdog warned that several levelling up projects were unlikely to meet their deadlines due to a combination of inflation, skills shortages, and decision-making at the Department for Levelling Up.