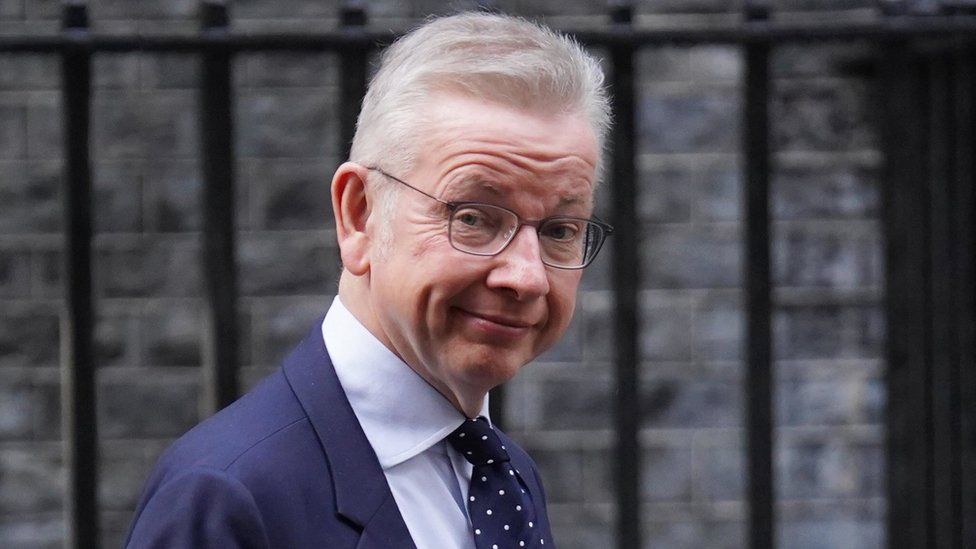 By Brendan Hughes
BBC News NI political reporter
Northern Ireland has not been allocated any money from a £1bn funding scheme because of Stormont's collapse, the UK government has said.
The Department for Levelling Up announced funding for 55 projects across Great Britain.
It said no money has been provided to Northern Ireland "at this time" because of the absence of an executive and assembly.
The Democratic Unionist Party (DUP) branded the move "economic blackmail".
The party has been blocking a restoration of Northern Ireland's power-sharing institutions in protest against post-Brexit trade barriers between the region and Great Britain.
Levelling Up Secretary Michael Gove said the funding announced on Monday would "create new jobs and opportunities, power economic growth, and revitalise local areas".
His department confirmed no funding had been allocated to Northern Ireland.
"In Northern Ireland, given the current absence of a working executive and assembly, the government is not proceeding with this round of the Levelling Up Fund at this time," it said.
"We will continue to work closely with projects and places in Northern Ireland that were awarded a total of £120m in the first two rounds of the fund."
'Unacceptable decision'
DUP MP Sammy Wilson described the Conservative Party government's move as "outrageous".
He said the absence of a Stormont Executive "has no material effect on the allocations".
"Under the cloak of economic blackmail, the government has syphoned money away from Northern Ireland to shore up Conservative seats in England," he added.
"Despite being entitled to 3% of the £1bn Northern Ireland has not received a single penny from this round of allocations despite there being hundreds of suitable applications in the system.
"Northern Ireland should have had an allocation of at least £30m today."
Ulster Unionist Party assembly member Andy Allen said he would write to Mr Gove pressing for the "unacceptable" funding decision to be "reversed".
"This decision by the UK government is yet another example of the people of Northern Ireland being punished for a situation not of their making," he said.
Stormont's power-sharing government has not been functioning since last year after the DUP withdrew in protest against post-Brexit trade barriers under the Northern Ireland Protocol.
The Windsor Framework was struck by the UK government and European Union earlier this year in an effort to address concerns with the protocol.
But the DUP has said the deal does not go far enough.
It has been in talks with the government to seek further legal assurances of Northern Ireland's place within the UK internal market.