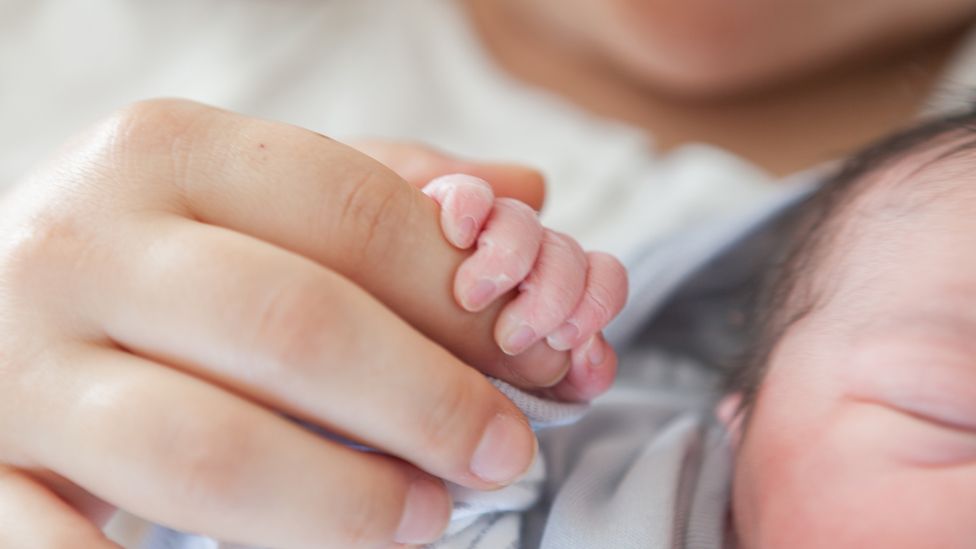 By Catherine Evans
BBC News
A day-old baby "would have likely survived" if her mother had been given the right care, an inquest has heard.
Nelly Webb died on 2 January 2019 at Royal Glamorgan Hospital, Rhondda Cynon Taf, weighing 2lb 8oz.
But a six-day inquest heard that despite having respiratory distress syndrome and a collapsed lung, the premature baby was "rescuable" with the right treatment.
Cwm Taf Morgannwg University Health Board has apologised to Nelly's family.
Doctors had told Nelly's parents, Jessica and Rikki Webb, that Nelly died because she was so premature.
But 20 months later they discovered they had been lied to and a catalogue of mistakes had been covered up, the inquest heard.
Recording a narrative verdict, South Wales assistant coroner Dr Sarah Jane Richards told the inquest in Pontypridd that doctors showed "a lack of competence and judgement".
She ruled the hospital was guilty of systemic failures under Article 2 of the European Court of Human Rights, and said doctors who investigated Nelly's death found it was "probably avoidable".
Dr Richards said: "The statement of the baby's mother made damning reading of a service in disarray.
"There was insufficient attention to the tests, medication and treatment from a team which appeared fragmented with multiple doctors and nurses providing different care plans."
The inquest heard that Nelly's mother should have been transferred to a neonatal intensive care unit before giving birth at 30 weeks.
But baby Nelly died the next day, after a series of mistakes and missed opportunities at the hospital.
The inquest heard 70 recommendations were made following an inspection by the Royal College of Obstetricians and Gynaecologists and the Royal College of Midwives.
The coroner said a consultant failed to spot Nelly had a collapsed lung, and the delay in inserting a chest drain was a "missed opportunity".
When the drain was inserted it went into the wrong place in her tiny chest, potentially causing an injury.
Dr Richards added: "There was an overall lack of competence and judgement by senior staff and a failure of candour to the parents in not discussing the misplaced chest drain."
Alison Williams, former chief executive of Cwm Taf Morgannwg Health Board, apologised to the parents while giving evidence to the inquest.
Ms Williams, who resigned from her post in August 2019, said: "It is heart-breaking for the family. I am sincerely and genuinely sorry for everything they have had to go through."
She added that at the time of Nelly's death, on 2 January 2019, there was a serious shortage of midwives and a reliance on locum doctors, some of them still in training.
'Deeply traumatised'
Outside court Jessica and Rikki Webb said in a statement: "Nelly was our first born and we were absolutely heartbroken when she died. We were told that she died from natural causes as a result of her prematurity."
They added: "We are still deeply traumatised by what happened, and the fact that we had been lied to for so long. The legal process has exposed what really happened to our little girl which has been even more upsetting."
The couple said they were left "so terrified of history repeating itself and having lost any trust at all in the care provided at the Royal Glamorgan Hospital", that they travelled to Cardiff for the births of their two sons in 2020 and 2023.
Paul Mears, chief executive of Cwm Taf Morgannwg, said the health board "extend our sincere apologies to Nelly's family for failings in care which led to her tragic death".
He added the heath board was "committed to learning from such tragic events to ensure that they do not happen again" and had made changes to services.